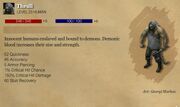 Thralls are humans enslaved to demons and enhanced by demonic blood flowing through their veins.
A Ragebringer can greatly amplify a Thrall by casting "Demonic Potential", therefore transforming him into a Defiler.
Abilities
Edit
Attack: normal attack
Charge: charging attack
In-game information
Edit
Human.
"Innocent humans enslaved and bound to demons. Demonic blood increases their size and strength."
"As you command." (start of battle)
"My will is broken." (start of battle)
Ad blocker interference detected!
Wikia is a free-to-use site that makes money from advertising. We have a modified experience for viewers using ad blockers

Wikia is not accessible if you've made further modifications. Remove the custom ad blocker rule(s) and the page will load as expected.