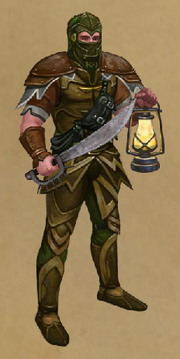 A damage dealer who afflicts various status effects and bypasses defenses.
Thief is a subclass of Rogue.
While most abilities require melee weapons, some rogues are still effective with bows from the back row.
Stance
Assassin also has
Effect
Notes
Elusive
Yes

+20 Evasion

Sneak Attack power cost reduced by 15

Useful in avoiding damage while waiting between turns, or to use Sneak Attack often.
Poisoncraft
Yes

Attacks apply "Rogue's Poison"

Scales with level and INT

Useful for stacking poison effects.

Applies to Sneak Attack, Insidious Poison, Sneak Assault, Sap Strength, Pierce Defenses, Cripple, and Strike.

Opportunist
No

Automatically attacks low health enemies to finish them off whenever the rogue has half (or more) action available.

-10 Quickness

Very powerful ability. If you can get enemies low enough to trigger this before the rogue gets his next turn, it yields a larger number of effective turns for the rogue, as well as mitigating potential damage enemies would have done on turns they were denied.
Skill
Power

Action

Effect
Notes
Strike

0

Full

Basic Attack
All class start with this
Sneak Attack

15*/30

Full

Deal damage to any enemy, regardless of position.

Scales with weapon damage

Does not bypass effects that "Demand Enemy Attention"

Applies weapon poison, Insidious Poison, and Poisoncraft when applicable

Hide

20

Full

Hide from enemy to become untargettable and gain +100% Damage bonus on next attack

Good for avoiding damage, and stacking up damage bonuses like Anoint and Inspiration
Pierce Defenses

30

Full

Weapon attack that ignores up to 50 Damage Protection

Scales with weapon damage

Useful against armored enemies

Allows physical damage against foes with less than 150 Damage Protection

Sap Strength

40

Full

Weak weapon attack that saps 75 power from the target

Scales with weapon damage

Does not give sapped power to the rogue.

Great against casters

Cripple

25

Full

Weapon attack for 50% weapon damage that applies the "Crippled" debuff

Crippled: Wound Condition

-30 Quickness

-30 Stun Recovery

Great way to keep dangerous enemies from gaining many turns

Flash Powder

40

Half

Deals no damage, but applies "Flash Blindness" and has has 25% chance to stun. Always hits.

Flash Blindness:

Mental Condition

-50 Accuracy

Useful against hard hitting opponents, especially if the stun succeeds
Thief's Luck

25

Half

All allies gain +30 Accuracy and +5% Critical Hit Chance
Helpful against evasive enemies, or critical hit stacking with other buffs and effects.
Even The Odds

10

Half

Removes the effect of terrain from a target square. Always hits.
Very useful to remove debuffs from allies, or buffs from foes.
Shadow Shift

15

Half

Move to an empty square, leaving behind a decoy that draws enemy fire.
Good in a pinch to draw enemy attacks while you wait for a turn to heal or escape.
Ad blocker interference detected!
Wikia is a free-to-use site that makes money from advertising. We have a modified experience for viewers using ad blockers

Wikia is not accessible if you've made further modifications. Remove the custom ad blocker rule(s) and the page will load as expected.