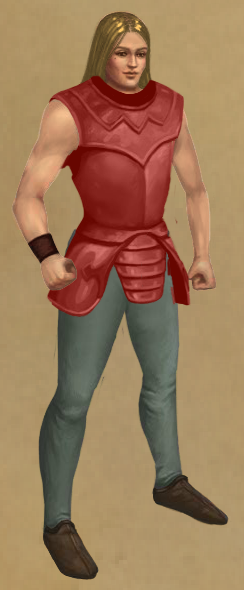 A relic from another time and place.
Heavy Armor, Chest
108 Armor Rating
+1 Dexterity
+1 Strength
+4 Health Regeneration
+1 Socket
-2 Quickness
Prohibited Mage
The Rubicite Breastplate
is a non-set, epic rarity heavy chest armor usable by all classes except mages. Along with its solid armor rating it provides a +1.4*tier (rounded to nearest integer) bonus to strength and dexterity, as well as an impressive +4 health regeneration per tier. It has one slot available for enhancements, plus the usual -2 quickness penalty associated with heavy chest armors.
Given its bonuses this item would probably be most suitable for use by rogues.
Virtually everything about the Rubicite Breastplate is based off of the Everquest item of the same name.

Back to Epic Equipments.
Ad blocker interference detected!
Wikia is a free-to-use site that makes money from advertising. We have a modified experience for viewers using ad blockers

Wikia is not accessible if you've made further modifications. Remove the custom ad blocker rule(s) and the page will load as expected.