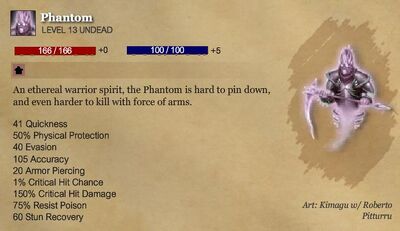 Front Ranks.
AbilitiesEdit
Relocate (?): Moves to another location gaining the Arcane Condition "Incorporeal" (+23% health regeneration, 100% Physical Protection, 3 seconds duration), becoming invulnerable to physical attacks.
Spectral Strike: Physical attack
Susceptible to Magic, Fire and Lightning.
Ad blocker interference detected!
Wikia is a free-to-use site that makes money from advertising. We have a modified experience for viewers using ad blockers

Wikia is not accessible if you've made further modifications. Remove the custom ad blocker rule(s) and the page will load as expected.