Welcome to the Monsters' Den Wikia!
Monsters' Den encompasses a series of games created by Dan Stradwick (also known as "garin"), a designer and programmer originally from New Zealand but now residing in Melbourne, Australia. This wikia was built specifically for Chronicles but is being restructured to include all games in the series including the new game Godfall. Come join our community and become a contributor!

This wikia is available for Adoption.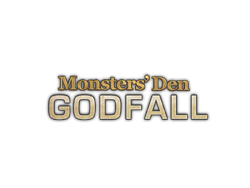 Monsters' Den: Godfall is the latest and soon-to-be downloadable version of the party-based dungeon crawl tactical RPG series Monsters' Den. Create a party of up to four heroes, from five distinct character classes. Then battle to the depths of the dungeon, increasing in strength and finding powerful treasure. This game was recently funded at Kickstarter. The game is expected to release sometime in 2016. The main wiki for the Steam game is here