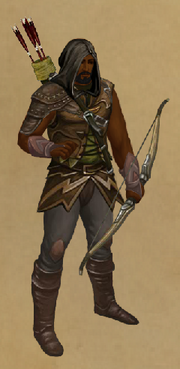 [[Ranger|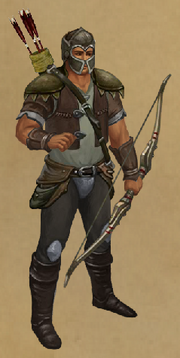 Rangers]] are masters of archery and the lore of the wild. Marksmen have honed their archery skills still further.
Stance
Warden also has
Effect
Notes
Marksman
Yes

- 5 quickness


+10% damage


+25 Accuracy

Healing Lore
Yes

+?? Health Regeneration (on self)


+10 Healing


Reduced cost: Nature's Balm

Hunter's Focus
No

+? Power Regeneration


-10% Skill Cost


100% Resist Mental
Skill

Power


Action

Effect
Notes
Shoot

0


Full

Attacks for weapon damage
Pierce

40


Full

Missile shot that goes through the target and can hit an enemy behind. Hits for a little less than weapon damage. Improved by Weapon Damage.
Requires ranged weapon.
Envenomed Arrow

30


Full

Single target missile attack for weapon damage, plus a small ammount based on int. Applies 6 seconds of poison. Improved by Int, Weapon Damage.
Poison from different sources stack, such as that of the rogue's Poisoncraft or Insidious Poison.
Pin

40


Full

100% chance to stun. Does about 60% weapon damage.
100% stun is great for setting up a Coup De Grace.
Hail of Arrows

70


Full

Missile attacks on all opponents for about 75% damage. Accuracy is reduced (-50), and cannot exceed 75%.
Applies poison status from weapon if applicable.
Nature's Balm

35


Full

Ally (or self) receives 3 seconds of health regeneration. Removes poison. Health regeneration is roughly equal to intellect.
Herbal Remedy

35


Ful

Ally (or self) is healed. Removes wounds. Heals slightly more than intellect.
Improved by Healing Lore Stance's +healing.
Swiftness

15


Half

Ally (or self) gets a large boost to quickness. +15 quickness for 6 seconds.
Put on self then you can swiftness the rest of the party in rapid succession.
Eagle Eye

Zero


Half

Next attack has 100% chance to crit. Slight power regeneration increase. 6 second duration.

Useful in tandem with cleric's Anoint buff, or the warrior's Inspiration buff.
Point Blank

30


Full

Missile attack only usable from melee range, hits for about 110% weapon damage. +50% chance to crit, always hits, reduces target's action.

Useful against enemies with high evasion.
Ad blocker interference detected!
Wikia is a free-to-use site that makes money from advertising. We have a modified experience for viewers using ad blockers

Wikia is not accessible if you've made further modifications. Remove the custom ad blocker rule(s) and the page will load as expected.